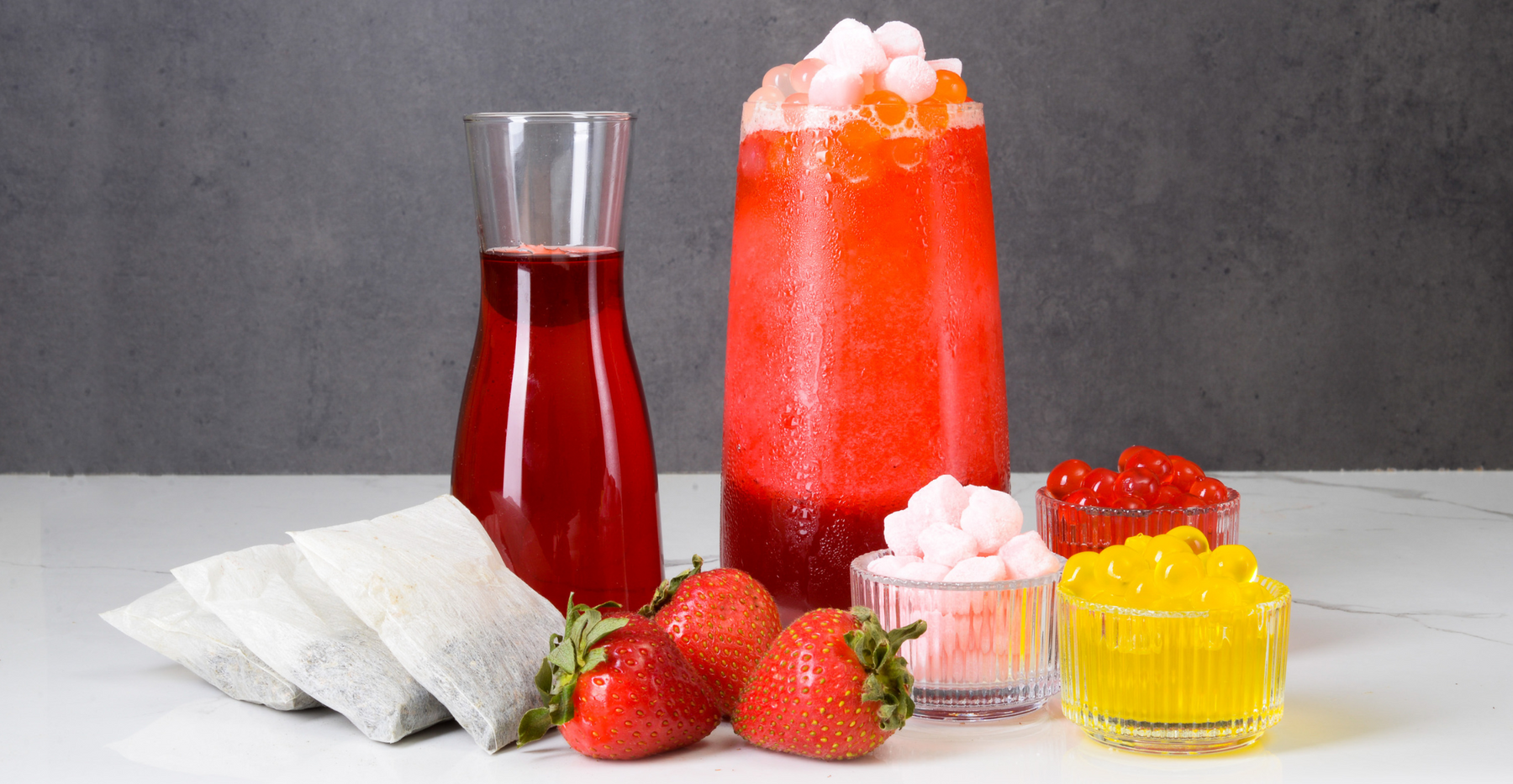 Red Grape Boba Tea Slush Recipe
Happy Valentine's Day! Love is in the air and what better way to show your appreciation for your loved one than by whipping up a delicious and special treat for them. 
Today, we're sharing a recipe for a sweet and fruity Valentine's Day bubble tea slush that's sure to put a smile on their face.
This bubble tea slush recipe is made with red grape syrup and sweet strawberry mochi, tapioca pearls which provides a perfect balance of flavors and textures. The red grape syrup adds a touch of tartness to the tea, while the mochi and tapioca pearls add a fun and chewy element to each sip. Let's get started!
Ingredients:
Instructions:
Begin by brewing a strong cup of green tea

and let it cool

. This will provide a rich and robust flavor for the boba tea.

In a blender jar, put the cooled tea, red grape syrup and ice. The red grape syrup will bring a sweet and fruity taste to the drink.

Blend for 1-2 minutes. And pour the tea slush into a glass.

Add the cooked tapioca pearls and strawberry mochi to the glass. The tapioca pearls and mochi will bring a chewy texture to the drink, while the popping pearls will add a sweet and fruity flavor.

Optional: top with whipped cream and additional strawberries for garnish. This will not only make the drink look more visually appealing but will also add an extra layer of sweetness.

Serve and enjoy your delicious Valentine's Day boba tea slush!
This boba tea slush recipe is the perfect drink to share with your loved one on Valentine's Day. The combination of sweet and fruity flavors, multiple textures, and chewy tapioca pearls make it a truly unique and enjoyable drink. So why not try this recipe out and surprise your sweetheart with a thoughtful and delicious treat this Valentine's Day!