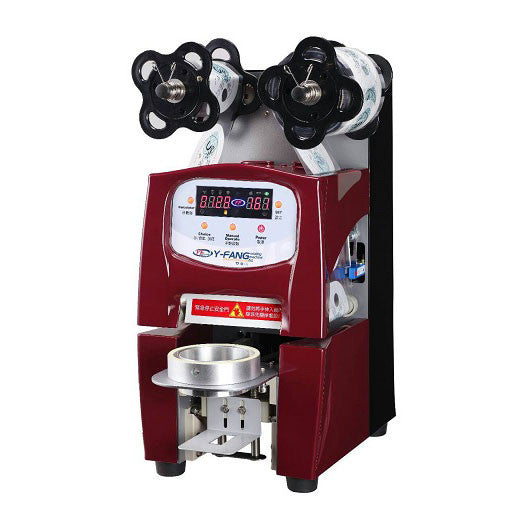 Sealing Machine 98S
Original price
$1,980.00
-
Original price
$1,980.00
FOR MULTIPLE UNITS, PLEASE CALL/EMAIL FOR PRICE.
Product Details:
Weight: 26kg
Capacity: 450pcs/hr
All of our cups can be sealed by this Sealing Machine :  click here 

Commercial Cup Sealer Machine
As experienced cup sealing machine sellers, we know that your bubble tea is only as good as the bubble tea machine you make it with—that's why every cup filling and sealing machine we produce is rigorously quality-tested and guaranteed to perform reliably throughout its lifespan. Commercial grade cup sealer machines incorporate the latest Japanese packaging technology, flawlessly producing sealed cups that will not leak, bend, or tear. Consider it our promise to you as committed cup sealing machine suppliers: If you choose to use our signature auto cup sealing machine for plastic cups, every bubble cup you offer your customers will be a thing of beauty.

What Goes Into Making A Great Plastic Cup Sealing Machine?
When looking for a cup sealing machine for sale, it's important not to be swayed by the offer of a rock-bottom cup sealing machine price: Having an inferior sealing machine for cups in your bubble tea dispensary can seriously compromise the health of your business. Instead, make sure to balance value with quality when selecting a milk tea machine; if you do, your bubble tea cup sealing machine will represent a wise investment that may last decades. Take, for example, our Table Type Bubble Tea Sealing Machine, which boasts the following advantages:

1. Every Boba tea sealing machine we make is crafted from the finest stainless steel.
2. Our seal cup machines have an aesthetically-pleasing design ideally suited to storefront display.
3. Our machines are small, lightweight, sturdy, and come at a very reasonable plastic cup filling and sealing machine price.
4. Our machines are easy to set up and can handle any standard material; if you're looking for a cup sealing machine for bubble tea that can handle PP, PE, Paper, etc. then we have just the seal cup machine for you!
5. When we make a boba cup sealing machine, we design it to preserve the freshness of your product: No spoiling, no dripping, no hassles and no mess.
6. Our automatic filling and sealing machine range will allow you to place your own brand logo on all of your bubble cups (and you can use either blank or printed film).
7. Though we offer our machines at an affordable auto cup sealer machine price, inside each machine you will find an advanced microcomputer control system. This system can easily be programmed and reset—no advanced training required.
8. Our automatic cup filling and sealing machine line also comes with a Front Safety Guard to prevent injury.
9.When you buy from us, you won't end up stuck with a Boba tea cup sealing machine that can handle only one size of cup—our Table Top boba tea machine comes with a cup-jack that works at any depth.

Bringing Our Signature Automatic Cup Sealing Machine to You
As one of the world's premiere semi automatic sealing machine suppliers, we are happy to ship our products around the globe. Whether you are looking for an automatic filling and sealing machine India's emerging bubble tea market will embrace or a cup sealing machine Australia's existing Bob tea fanatics can rely on to maintain a leak-free durable seal, we've got you covered. And, while you're at it, don't forget to check out our full line of bubble tea equipment: We offer bubble tea machines, packaging, automatic form fill seal machines, automatic plastic bag sealing machines, boba tea shaker machines, and much more!