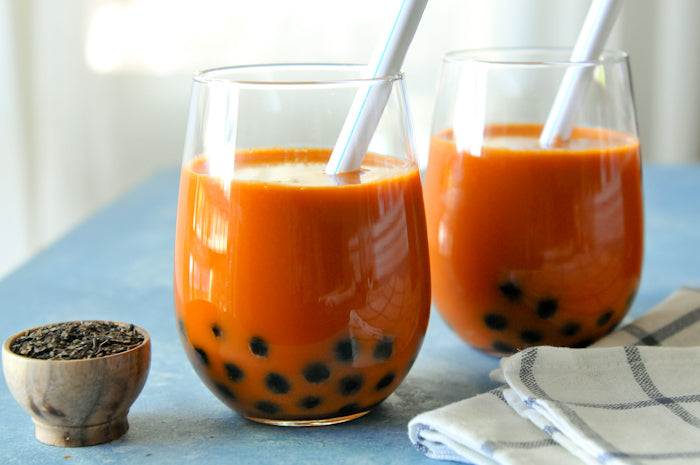 Immerse yourself to local Thai Milk Tea
Did you miss that local taste in your exotic Thailand memory?
Don't just thinking about it, let's make it!!
Thai milk tea is easy to make with our thai style milk tea powder. Everyone can make it at home.
Ingredients
First, prepare the tapioca pearls:
Tapioca Pearls   500g 

Water  3000 ml 

Sugar 125g 

Hot Water 75ml 
How to make it?
Recipe
Step 1:Boil the water 
Step 2:Put the pearls into boiling water and stir until all the pearls float
Step 3:Turn to medium heat and cook for 25 minutes
Step 4:Turn off the heat and close the lid and stew for 25 minutes
Step 5:Scoop all the pearls out of the pot and use a filter to drain the pearls and flush by cold water
Step 6:Drain, mix with sugar and hot water 
Once you followed all the steps, the tapioca pearls are ready to serve. Now you can prepare thai milk tea by following steps: 
Thai Milk tea powder     30g

Creamer                        10g

Hot water                       450ml

Fructose                        20ml
Stir all ingredients together and ready to serve with black pearls